Tony Horton – One on One VoL2 Disk 7: On One Leg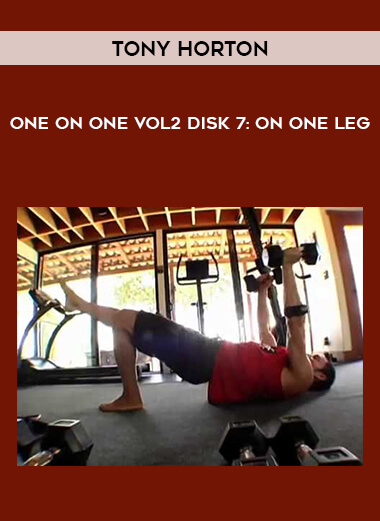 Salepage : Preview
Arichive : Preview
One on One with Tony Horton –  On One Leg (Vol 2. Disc 7)
Length: 35 minutes
Summary: An arms and shoulders routine, while balancing on one leg.
Potential Supplement For: Any of the weight programs if you're recovering from a strain or injury
Intensity: Less intense than any of the resistence workouts in P90x
In this video, Tony shows up sporting an elbow wrap.  He explains that he's had a nagging injury and that he won't be lifting as heavy of weights in this workout.  The workout consists of many of the standard P90x shoulder and arms exercises (military presses, kickbacks, curls, 21s, pike presses, etc) but to intensify the workouts, everything is done while balancing on one leg.  To make this work, both Tony and I lowered the weight from the usual.  This was an interesting workout.  I have to say that I didn't feel that I was forcing myself to work as hard as usual.  Obviously keeping balance is tough, but it's different than grunting to pump out extra reps with higher weights.
It is interesting that throughout this workout Tony makes sure to make it well known that he's really struggling.  The video man, Mason, also overdoes it on the Tony worship.  I don't know how many times he admired Tony's calves or praised Tony work working so hard.  Get a room, guys.
This is another good workout, but I'm not sure that I will work it into my next workout routine with regularity.  I can see it being useful if you are recovering from a muscle strain or some other injury–it's a great way to get some lighter-weight work while engaging the core.  But it's not going to do an assault on the upper body like any of the other heavy workouts in P90x.