Toby Alexander – Mastering Connecting to your Higher Self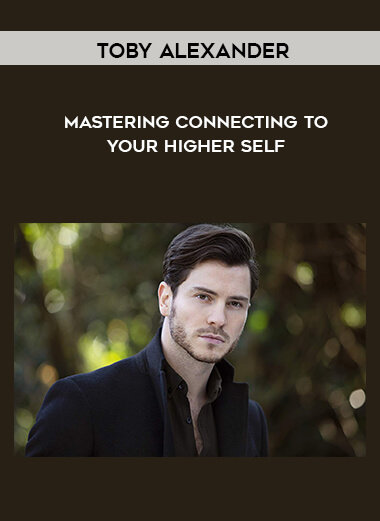 Salepage : Preview
Arichive : Preview
One of the intentions that I see the most in all of the more than 100,000 of you who have done DNA activations and coaching sessions with me is to be able to connect to their Higher selves and live in line with their soul's mission here on Earth.  I thought that rather than do this one by one, I could do this for many at the same time and activate this awareness for humanity.  So today I had the intuition to create a free short audio training session on what your Higher self actually is and a specific protocol to connect to this.  I guide you step by step in the audio and it is my honor to gift you with this technique as it will change your life forever when you start making all your decisions IN LINE with your Higher self.  Please share this with as many people as possible and IMAGINE what it would be like if everyone on the planet made their free-will choices IN LINE with their Higher self.  There would be no war, no chaos, no defense, no discordance whatsoever, and we would truly have Divine Right Order here.

You can use this technique for anything in your life.  We use it for trading in the Christos Avatar Trading.  Please listen to the audio and review it so you can master the technique.

I appreciate you and salute you for your commitment to your own mastery, as well as the value you provide to myself and others in your path of service and contribution.

Click here to listen to the audio on mastering the connection to your Higher self
NOW WATCH how we APPLY this technique of mastering the connection to our Higher selves to MANIFEST unlimited ABUNDANCE – Christos Avatar Trading results this week

Below you will find how we APPLY the technique of connecting to our Higher self to manifest MATERIAL ABUNDANCE through trading the markets.  We are up over 100% in just two weeks time and on the following videos you can see over $9000 of profit in just 3 days.

If you desire to master yourself while profiting and becoming more financially FREE, take our course and EMBODY your own Christos Avatar Master Trader self.
(these are Windows Media Viewer files so you require to open them with Internet explorer not Firefox) 
Looking forward to having you with us in the 21 Day Master Trader Cleanse and Coaching.
Much love and respect,
Toby Alexander
http://www.christosavatartrading.com
To register for the 21 Day Master Trader Cleanse and Coaching,
Then login to the Online Store and go to Services -> Classes -> Christos Avatar Master Trader Cleanse and Coaching
You do not require to do 21 consecutive days and can join the room anytime between 8:00am and 10:00am Central time after you enroll.  The investment for this training is $3528.00
If you a serious trader and desire PRIVATE SESSIONS for trading, these are $500/hr and you can apply for this opportunity by e-mailing me at [email protected]. These sessions will be done on Omnovia web conference where you can see my charts and we can talk one on one.
Looking forward to assisting you with this!~
Rebirth of the Christos Avatar Master Trader Workshop – New York City – Feb. 13, 2010 – Feedback
First of all, it was ironic that I was the closest in terms of distance of all the attendees, yet I was the last to arrive at the venue.  When I got there though, it just so happened that everybody was doing introductions and the timing was perfect because when I walked in was when it was my turn.  I didn't realize then, but this was going to be the first of the many "transcendental" moments to be experienced throughout the workshop…
This was also exciting because it was the my first workshop in a group setting, and it was specifically focused on business and rebirthing the master trader.  I was also looking forward to meeting Toby and Ivonne in person, along with the others that were on the same journey as I was.
There were so many things that was amazing and almost surreal about this TR workshop.  First of all, everything seemed random and unplanned on the outside, yet everything went perfectly according to plan AND in sequence (or rather DIVINE plan and DIVINE sequence).  Each attendee had a specific intention for this workshop, and it was amazing to see how this all manifested during the workshop.  Ivonne was incredible in her God-given abilities to read the Intelligent Space and facilitate all this.  And not to forget all the clearing that I experienced that Toby facilitated throughout this workshop.  There was a certain aura and energy about him that I was able to confirm when I finally met him in person since I began working with him in 2006.  Throughout the workshop as Toby and Ivonne worked on assisting the rebirth of each attendee, I realized how they complemented each other.  Despite this, they were very grounded and kept this very "down-to-earth" and at a level that we were all able to relate to.
It's been almost 2 weeks since the workshop, and I feel I am still taking in the experience from that particular day!  In regards to what I felt during the workshop, as ids were being activated and cleared, the clearing was happening at a group level and I felt this physically.  It was a continuous cycle of mostly pressure in my head area, (and sometimes other areas or chills depending on what was manifesting).  This was followed by a sensation of clearing with the pressure going away.  When it was my turn and Ivonne and Toby assisted me in my intentions via a special brainstorming exercise, I didn't realize then what I was doing.  It only hit me about a week later that the exercise that she helped me go through was not just a brainstorming exercise, but it spelled out in front of me what I needed to work on~~!!  I am truly looking forward to how this all manifests at time passes…
Thank you Ivonne & Toby for your tireless passion, focus, and intensity to assist humanity in rebirthing into unconditional love and blissful joy!
Namaste,
Roger
During the Christos Avatar Trading Rebirthing in New York I discovered within my turn and through the other participants turns many golden nuggets and pearls of wisdom within my-Self. Three of these were of utter most importance in my path towards self mastery in life and trading. First was the distinction between self-discipline and devotion. The belief of becoming a self-disciplined individual carried a feeling of being "hard", a "burden" and something "I should do" to succeed. Then there is devotion, doing something with passion and enjoyment…this is
truly the key for success as my frequency rises and any task or work
at hand I immediately associate it with joy and pleasure. This way I
am totally committed and focused to what I am doing, work becomes fun.
This is something that I had seldom been able to perceive in my family
system, school and college and society at large. In fact my own father
has been for many years involved as a professional stock broker and I
used to tell myself I would never get involved in anything related to
the market and trading because it all seemed a roller coaster of
emotions like worry and fear and attitudes like "work is hard, I live
to work and I must sacrifice myself." It is interesting how the things
I focus on, whether in a positive or negative way, I manifest them. Yet
thanks to my work with Toby and Ivonne I am very open to new
opportunities and getting out of my comfort zone. When Toby Alexander launched
the Christos Avatar Trading., I knew trading from his perspective would be a whole new different approach and one that would be focused on self-mastery,
impeccability and definite success. Because I had avoided all that was
related to trading in my previous years, I had the advantage of having
no data associated with actual trading or investment in the market.
Before the C.A.T. Transcendental Rebirth I had only gone through 10
days of training with Toby on C.A.T. and I already was hitting many
profitable targets in my simulation account by following my clear
Rules of Engagement, trading plan and executing valid signals. On the
first day I opened a chart I didn't have a clue what all of that
meant, today my Reticular Activating System reads charts and notices
valid signals effortlessly, today I just completed day 12 of the
C.A.T. Level I training…9 more to go.
The second big golden nugget that I discovered with the assistance of
Ivonne was during my turn in the T.R. process where I witnessed how the
fear of losing and spending money, which I had identified with, was
not even mine. This fear came from my grandfather which at a point in
his life chose to let go of all his material and financial possessions
to get out of Cuba and once he got out he struggled for many years
with finances. Letting go of these entanglements was/is not only
beneficial for myself to walk my own path, but also for my entire
ancestral lineage, for now they could carry their own responsibilities
and work, and for my future now children which will inherit from me
only wealth consciousness and fearlessness.
Then there was the golden nugget of trust which was the main focus of
one of the CAT participants. Trust is such an important factor in my
life and trading, whether is trusting my intuition on decision making,
trusting my trading plan or my trading rules of engagement, trusting
myself even more than that which I was doing meant a deeper surrender
to my Higher Self and Source-will. I re-experienced the sense of
safety and freedom towards my future-now in an even more powerful
way…like just knowing deep inside with such certainty that the
brilliancy and abundance in my life can only get better and better.
Thank you Ivonne for modeling what true passion and devotion is, for
so elegantly assisting me in letting go of transgenerational systemic
effects and guiding me to discover the brilliancy that has always been
within me. Thank you Toby for modeling true mastery and simplicity in
successfully achieving any goal. With both the C.A.T. and the C.A.T.
Transcendental Rebirth I have permanently ingrained in my
consciousness that success is inevitable and abundance is my birthright.
Gustavo Castaner
Swami Arjunananda
The Christos Avatar Master Trader Rebirth workshop was extremely powerful for me. My intent on my rebirth was set to rebirth into my mission of this life.  Even if this was a rebirth especially designed to birth the Master Avatar Trader, I do not see this as separate from my mission, as my inner feeling is that this Trading is PART of my mission and thus not separate entity.So with this intent I went through my rebirth with beloved Ivonne and Toby to whom I am so grateful which is beyond any words.
I desire share the main feelings and thoughts from this event.
As we proceeded, first, the biggest fears of my life were transmuted very powerfully together with behavior patterns of self sabotage as well as a package of other fears related, such as fear of rejection and abandonment. As all these were transmuted the turn of mine suddenly shifted to somebody else and I was left integrating these for a while. I was sitting and instantly meditating on the floor. While I was sitting there and Ivonne and Toby worked with another person, what started to happen was as if a higher dimension was descending on me. This was amazing blessing, and very powerful experience. From the higher realms soft, light energies ascended within me. Everything turned into white and gold and I could not physically see and feel anything but these energies. My body was moving, making round like circles, like a DNA helix turning around its axis. I felt amazingly ecstatic and blissful.
After the workshop I was in an absolute bliss, serenity and at state of very deep inner peace and happiness for about 3 days. Certainly a whole new dimension opened for me. And what I have recognized NOW is that this dimension shift/DNA activation is integrating and becoming embodied within me, which means that it is present NOW at all times, not just those 3 days. And the experience is a very pleasant one.
In summary this workshop was a huge clearance, DNA activation and download at the same time. Furthermore, information was given to me about my life mission and not only regarding to trading which of course was the main focus.
AH. I am so grateful, honored to have the possibility to receive such blessing.
I love you.
Ella
Dear Toby,
Getting to meet you as my mentor is the greatest gift from GOD. All I ask is given. Since the day I realized that I have a 6th sense after doing DNA activation, I had a thought "Can I use this to trade in the money market? " I never really acted on it as I knew nothing about trading anyway..
With this Christos Avatar Trading portal , all I ask is given. First is financial freedom, and with this I can fulfill what my heart and soul purpose are guiding me to.
Embracing risk , surrendering to the unknown, all the energy work that I received worked immediately.  I am from Malaysia and my wage slave job only pays me USD 4 dollar an hour, and I work 13 hours per day inclusive of travelling time. Letting go of a USD 4 dollar an hour job to trade full time was not a difficult decision for me.
WHEN I HEARD ABOUT THIS PROGRAM, MY HEART WAS SHOUTING AT ME AND SAID " COME ON! JUMP ON IT!", ONLY 1 PIP A DAY, ONE CONTRACT  , YOU GET 200% INCREMENT AND YOU HAVE THE OPPORTUNITY TO GET 24 MONTHS BONUS!   JUST ASK AND YOU RECEIVE.
ALL FROM MY HEART, thank you so much and no words can describe the gratitude I feel.
Namaste
Anna
Dear Toby,
I am so grateful that I my Higher self guided me to participate in the Christos Avatar Master Cleanse and Coaching, level I. I have just finished the coaching and will in the near future now start the level II. I would not miss the chance of continuing this powerful coaching!
This coaching was so empowering for me. I would say that even though a person would not be interested in starting trading ever, this coaching would still be recommendable because of the huge impact it has on the psychology with all the getting out of the comfort zones, wage-slave, victim mentality etc. clearings, code activations, new points of view to and release of perceived "difficulties" in life to name just a few. Perhaps the most important single advancement for me is: During this coaching I have manifested into my life the consistency to practice yoga, physical exercises and meditation DAILY. So after years of alternating between intensive training and almost no training at all daily practice is now self-evident to me, since 2-3 months now. I look forward to my practice every day with enthusiasm. This is so powerful!
In addition to all this I have been given a trading system which is 70-80 % profitable. So as the other trainings on energetic healing I have had with you Toby have given me a sense of profound purpose in life, this coaching has not only provided me with strengthening to the purpose but also with the practical means to go for it fully. I love this! As this in itself is very motivating, each session of this coaching just boosted the motivation to ever new growth. So I have moved from perceiving the markets as something difficult, "out-there" and "not for me" to seeing them full of opportunities, even though I had no knowledge on the markets before signing up on the coaching. I truly desire to master this.
Thank you Toby for your excellent coaching and for being an example of a true Christos Avatar Master Trader!
Namaste,
Jaakko
Dear Toby,
I am very grateful and amazed at the simplicity and clarity in which I can understand and profit from something that on the outside may appear to be so complex as trading. Some of the issues that I have learned in this Level I are: a profitable trading signal (75% profitable), an understanding of the psychological elements that define successful trading, and an understanding as to how to apply our connection to our higher self as an indicator to increase the probabilities (and profitability) on my favor. More than anything, I am amazed at the enormous opportunities that trading presents as a financial and spiritual endeavor, where being clear and present become the key elements for success (both financially, as well as spiritually). Now I have the tools and I am consistently profitable in my simulation account, and I intend to begin trading live in February as I master further levels and knowledge. Thank you for the simplicity, clarity and depth of your teachings.
Fernando


Dear Toby,

Wow!  This training is "off the hook!"  I am getting really excited about the possibilities for the unfolding of my life and life work.  Here are a few of my comments:
Yes, I have had some training …and some success …trading stocks and EFT's, primarily.  Yet, this training is like none other I have experienced.  And, yes, I have taken other courses from Toby that were also fantastic.  Those courses had to do with things of the spirit.  Of course they also have many real world  applications.  This course is a practical, down-to-earth bonanza of useful, valuable information that, by itself, will certainly boost my percentages to new highs …AND …this is the supercharger …Toby dives right into our spiritual selves, our energy bodies, our patterns of lack and fear, some of which are inherited ….and CLEARS these erroneous patterns from us in ways that can only be done, in my opinion, with a Master, like Toby.  I also feel like there is the willing assistance of the Masters in the other realms!  It is seldom easy to take the rich, amazingly complex and delightful experiences we seem to constantly share with Toby, and reduce them to these klunky words. J
I feel like, even now, that the course has paid for itself in multiples of returns!  Monetarily … there is NO course I can imagine that is more useful than this one!  Spiritually and emotionally I am feeling such an amazing upliftment.  Maybe, for the first time in my life, I can see WHY I feel so motivated to do this well.
I am inspired.  I am excited.  I am grateful!  that we chose to make this commitment.  I can do this …and I can do it well!  Thank you for your heart-felt commitment to US!
Also, I am very grateful for your clearing the other day on heavy cold symptoms I had!  I am VERY interested in what command/Code you used and I am grateful for your sharing!  I look forward to your class tomorrow!
Blessings and Love,

Phil LaHaye
Greetings Toby,
I have recently crossed the half-way mark for the Level 1 Christos Avatar Trading Training. Looking back from where I began, I am amazed.
My knowledge of futures trading was "zero".  I didn't even know the basic terminology.   However, under your patient instruction and guidance I have progressed rapidly and am feeling confident.
One of your perceptions of trading has proven true for me as well – trading IS like a mirror. It has absolutely been reflecting back what I require to work on in my life. It is proving to be a great vehicle for assessing the need to clear/refine who I am, at the deepest level.
You have been faithful with providing instructions/protocols which address anything potentially standing between myself and successful trading.
Perhaps the greatest endorsement that I can provide is this: I have committed to go through all 3 levels of the training. I believe my  ROI (return on investment) is incredible.
Thank you for your faithful mentoring, I am profoundly grateful to you.
Blessings…
Jeff
The 21 Day Master Trader Cleanse Training not only has given me a consistently profitable trading system but after some clearings were done has allowed me to be more peaceful and centered in other areas of my life.  So I have learned to not only make a lot of money but also to do so without any stress.
Sincerely,