Sang H. Kim – Power Breathing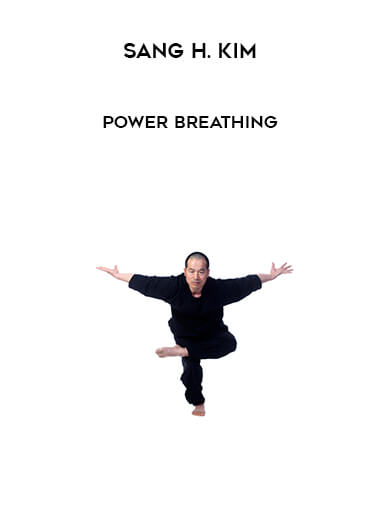 Salepage : Preview
Arichive : Preview
Revitalize Your Energy with Power Breathing! Martial arts expert and Power Breathing for Life creator Sang H. Kim teaches you breathing exercises that you can do anywhere, in as little as sixty seconds, to relieve stress, increase your fitness level and feel better instantly. New to breathing exercises? Start with Gentle Breathing, a simple way to reconnect with your body and begin your journey toward renewed energy. When you're ready, the core Power Breathing exercises of Steady, Staccato and Explosive breathing combine to create a total body energizing workout that will leave you feeling refreshed and revitalized. Finally, give attention to problem areas with Healing Breathing ten exercises to release tension and promote flexibility through controlled breathing. Beyond the exercises and workouts, this book also explains how and why Power Breathing works and how you can get the most out of your breathing practice. It includes variations to make the exercises less strenuous or more challenging depending on your fitness level and walks you step by step through each breathing method using photos, illustrations and easy to understand instructions. Learn the keys to a successful Power Breathing workout, including the unique concept of condensing that is the secret to building inner power and harnessing your body's core energy. Power Breathing is an excellent way of improving lung capacity, strengthening the core muscles of the torso, increasing stamina, reducing stress and channeling inner energy. Its principles can be applied to martial arts training, yoga, tai chi and many aerobic sports.
Sang H. Kim is the originator of MBX, mindful movement and deep breathing exercises. Dr. Kim is an internationally respected author of over 20 books on mindfulness, motivation, health, fitness, and martial arts, including Ultimate Flexibility, Vital Point Strikes, Ultimate Fitness through Martial Arts, 1001 Ways to Motivate Yourself and Others, Power Breathing, The Art of Harmony, and Martial Arts After 40. 
He has also created over 200 instructional video programs on those subjects which are available through Amazon Instant Video.
After 30 years of teaching martial arts for soldiers, police, civilians, Olympians, inner-city youth, business executives, and international organizations, he returned to academia to conduct clinical research on the effects of mindful movement and deep breathing (MBX).
His research team found that participation in the 8-week MBX program reverses post-traumatic stress disorder (PTSD) symptoms and improves sleep patterns and emotional balance. Dr. Kim has presented his findings in various national and international scientific conferences. His research results were published in the July 2013 issue of the Journal of Clinical Endocrinology and Metabolism, and featured in CBS News, Huffington Post, Fox News, and others.
He has a PhD in Exercise Science, and had training as a Postdoctoral research fellow at the National Institutes of Health (NIH). He also had additional training at the National Cancer Institute (NCI) and the Institute of Lifestyle Medicine of Harvard Medical School.
He currently resides in the Washington, D.C. Metro area with his wife, Cynthia. He blogs at