Sacred Awakening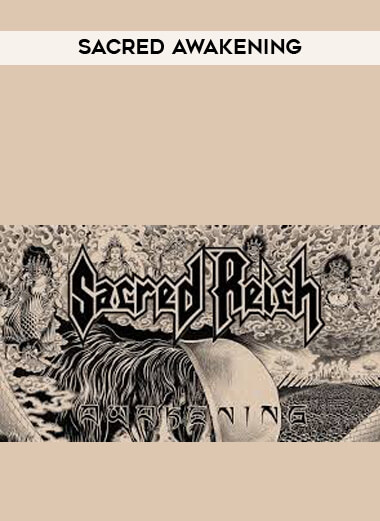 Salepage : Preview
Arichive : Preview
Are you Ready to Experience Greater Love and Fulfillment, and Make Your Unique Contribution to the World?
The Sacred Awakening Course features 12 of the world's top transformation teachers who will provide the practices, insights and inspiration for you to awaken to your full potential and divinity!
With each module, you'll become more connected to your core essence and expand your ability to live from it day to day — so you experience more love, joy and meaning in all areas of your life.
You'll discover and master how to…

• Shift from living from your ego, worrying and struggling day-to-day, to living as a divine soul with more ease and meaningful purpose.
• Experience more freedom and peace as you realize all aspects of yourself are sacred and holy, even the "parts" of you for which you sometimes feel shame or disdain.
• Receive more consistent and accurate guidance from your intuition so you can make daily decisions with greater awareness.
• Create and enjoy true community and profound romantic relationships.
• Feel confident that you are making your unique contribution to the world.
• Experience yourself as truly whole, so that you can live with more joy and peace AND magnify your capacity to be a catalyst of positive change in the world.
What You'll Discover and How You'll Transform
In this 10-module transformational program, twelve of the planet's top spiritual teachers will guide you through a powerful process to undergo and live your own sacred awakening.
In part 1: Awakening Yourself, you'll be guided through the fundamental skills, principles and practices needed to connect with, and express, your full potential.
In part 2: Evolving Your Relationships and Our World, you'll learn the keys to moving through the world, in relationships and while making your important contributions, in love, joy and awakened awareness.
Each session will build harmoniously upon the next, so that you'll develop a complete, holistic understanding of the practices, tools and principles you'll need for your sacred awakening.
And between class sessions, you'll receive carefully curated practices to deepen your understanding and embodiment.
Part 1: Awakening Yourself
---
MODULE 1: Principles for Sacred Living
with Stephen Dinan and Devaa Haley Mitchell
Get an up close and personal view, as Shift Network founders and real-life couple, Devaa Haley Mitchell and Stephen Dinan explore the interplay of masculine and feminine energies in all aspects of our daily lives. Stephen and Devaa offer a number of practices to bring yourself into balance and alignment between masculine and feminine energies to live a sacred life.
In this session, you'll discover:

• Signs and symptoms that you may be out of your personal masculine/feminine balance.
• The positive shifts that can result for both men and women from living more consistently aligned with your full expression.
• The practices that Stephen and Devaa use to create lives that are incredibly productive and fulfilling, and also abundant in peace and ease.
Stephen Dinan is the CEO of The Shift Network and a member of the prestigious Transformational Leadership Council and Evolutionary Leaders groups. As the former Director of Membership and Marketing at the Institute of Noetic Sciences, he was the driving force behind the Shift in Action program. He is also the author of Radical Spirit (New World Library) and a forthcoming book, Sacred America, Sacred World. Stephen directed and helped create the Esalen Institute's Center for Theory & Research, a think tank for leading scholars, researchers and teachers to explore human potential frontiers.

Rev. Dr. Devaa Haley Mitchell is a soul midwife, spiritual teacher and business leader. She is a co-founder of The Shift Network and Founder of Inspiring Women with Soul — a unique online gathering of more than 100,000 women from more than 160 countries. Prior to Shift Network, Devaa was the founding Executive Director of the Full Circle Fund, dedicated to building a new generation of civic leaders. She was also the Director of Member Engagement at the Institute of Noetic Sciences (IONS), an organization bridging science and spirituality. Devaa also worked as a consultant at the Boston Consulting Group where she offered management advice to Fortune 500 Companies.

---
MODULE 2: Embodying the Divine Human
with Andrew Harvey
Join renowned spiritual scholar and Christian mystic, Andrew Harvey, for a poetic discourse on the extraordinary birth that is taking place in our world. Uncover the evolutionary process of becoming a divine human and how you can speed up your own divine transition.
In this artful session, you'll discover:

• The meaning of the extraordinairy birth that is taking place on this planet and what you can do to help it unfold
• The power of passionate compassion in action
• 3 key understandings about your path on the evolutionary process
Andrew Harvey is an author, speaker and founder/director of the Institute of Sacred Activism, an international organization focused on inviting concerned people to take up the challenge of our contemporary global crises by becoming inspired, effective and practical agents of institutional and systemic change in order to create peace and sustainability.  Andrew has taught at Oxford University, Cornell University, Hobart and William Smith Colleges, The California Institute of Integral Studies and the University of Creation Spirituality as well as at various spiritual centers throughout the U.S. He was the subject of the 1993 BBC film documentary, The Making of a Modern Mystic. He has written and edited over 30 books and received many awards, including the Benjamin Franklin Award and the Mind Body Spirit Award.
---
MODULE 3: Activating Your Chakras
with Anodea Judith
In this module, leading chakra expert and spiritual teacher, Anodea Judith, will illuminate the world of chakras and their sacred purpose in your journey of Sacred Awakening. Anodea will guide you into practices to help you activate and occupy these sacred centers, and offer techniques for balancing misalignments.
In this activating session, you'll discover:
• What chakras are and how they become blocked.
• An orientation to the 7 chakras and how you can activate and balance each
• Practices for grounding your energy or bringing in energy from the earth based on the needs of your chakras
Anodea Judith, PhD has been writing and teaching about the Chakra System for 40 years. With a Master's in Clinical Psychology, and a Doctorate in Mind-Body Health, her best-selling books on yoga, healing, manifesting, and social change have become global classics. Her first book, Wheels of Life, is an international standard, followed by her groundbreaking book on the psychology of the chakras, Eastern Body, Western Mind: Pyschology and the Chakra System as a Path to the Self, which is frequently used as a text in universities and healing programs.  Anodea has also produced an award-winning film, The Illuminated Chakras, and conducted a private practice in somatic psychology for twenty years.

---
MODULE 4: Living from an Awakened Heart
with Bill Bauman
Join Bill Bauman, visionary and heart awakener, as you reach deep within your being and find the truths you seek inside of you.  Bill will help you access your heart center and truly experience the heart as it shares its soulful, universal truths.
In this heart-opening session, you'll discover:

• The entire universe that lives in your heart.
• How to strip away the misconceptions of the mind and find the lessons that your heart has to teach you.
• Practices to initiate you into an "awakening of the heart"
Bill Bauman, PhD, was a Catholic priest in the 1960s, a practicing psychologist from the '70s to the '90s, a business consultant and leader for two decades, a noted leader in the global peace movement in the '90s and a spiritual leader from the '80s to today. Currently, Bill has combined these many systems into a dynamic and life-changing approach that he now calls "the ultimate human," "the ultimate healer" and "the ultimate leader." In this approach, he is a noted trainer, heartful speaker, loving motivator and visionary of life's possibilities. Bil's loving heart is at the forefront of his every interaction.  His expansive vision moves people to hear their own truth most compellingly.
---
MODULE 5: Connecting to Your Higher Guidance
with Tim Kelley
Global change agent, Tim Kelley, imparts a simple step-by-step process on how to open a 2-way communication line with your higher guidance. This will inculde discussion on how to create the right conditions for communicating with your higher guidance and preventing blocks in the communication stream.
In this practical and purposeful session, you'll discover:

• The three types of sources of higher guidance or "trusted sources" and how to access them.
• The process of "Active Imagination" to dialogue with your trusted sources
• How to open a 24/7 connection to your higher guidance
Tim Kelley is a global change agent and internationally-renowned expert on higher purpose. He works with top leaders in many fields and countries to transform human institutions and evolve society to its new form. Tim's methodology, True Purpose, has been featured internationally in magazines, newspapers and on television. Tim has trained over 1000 consultants, therapists and coaches in his methods and taught Voice Dialogue on three continents. He has worked with hundreds of CEOs, including top leaders and executive teams from such companies as Nabisco, ING, Oracle, Lexmark and AOL. He formerly worked as a leader at Oracle, two levels below the CEO. He is the author of True Purpose and the best-selling co-author of three other books.
Part 2: Evolving Yourself and Our World
---
MODULE 6: Sacred Relationships
with Miranda MacPherson
Spiritual luminary, Miranda Macpherson, offers an inspirational but at-the-same-time grounded perspective on relationships and the interplay of the ego and what she calls our "true life's vocation," love.  Miranda's personal stories of hardship, breakdown and divorce lend a true depth to the spiritual growth that she discovered through hard times.
In this insightful session, you'll discover:

• Miranda's principles of sacred living and how you can bring them into your life
• How another person becomes either your savior or your crucifier in your
relationships – and what you can do about this.
• The unspoken "vows of the ego" that could be destroying your relationship
Miranda Macpherson is a contemporary spiritual teacher, counselor and author of the spiritual guidebook Boundless Love (Random House 2002) and the upcoming book, Tasting Grace. Drawing from the ancient lineages of Advaita, mystical Christianity with more recent wisdom teachings such as A Course in Miracles, Miranda's work is a synthesis of self-inquiry, spiritual psychology, devotion and meditation practice offered with feminine grace. Through a blend of silent transmission and articulate teaching, she leads retreats and on-going programs oriented to guiding people into direct spiritual experience while providing a practical map for actualizing our realization into daily life.
---
MODULE 7: Coming Into Loving Resonance
with Gay and Katie Hendricks