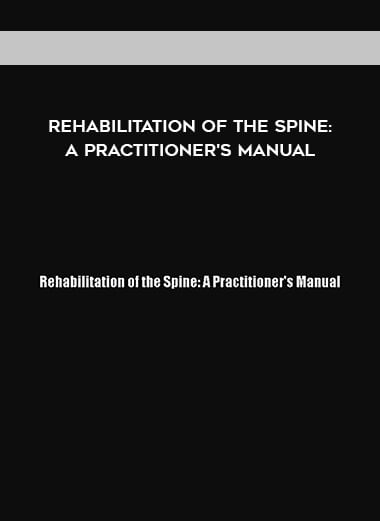 Rehabilitation of the Spine: A Practitioner's Manual
Salepage : Preview
Arichive : Preview
Both Craig Liebenson and his multiple contributors have created a practical text to examine spinal rehabilitation. This multidisciplinary text integrates the fields of physical therapy, chiropractic, physiatry, and manual medicine. The rationale for the text is to provide an updated evidence-based functional and active self-care approach to musculoskeletal spinal pain. The combined expertise of the authors makes this text a valuable resource. A few of the contributors include Drs. Kirkaldy-Willis, Jull, Janda, Hodges, Bogduk, and McGill, Mooney, and Triano.
The text is well indexed and there is an excellent flow of material. There are 39 chapters, divided into 7 sections: Overview, Basic Science, Assessment, Acute Care Management, Recovery Care Management, Practical Application by Region, and Implementing the Functional Paradigm. Each section discusses some of the basic underlying theories and provides key information on clinical application. With the inclusion of the companion DVD, five sections outlining the correct application of rehabilitation techniques is provided. The sections include physical performance evaluation, sparing strategies, stabilization strategies, functional integrated training, and the Czech school of manual medicine. Each section of the DVD is comprised of numerous exercises and functional training protocols.
The premise of the first edition is carried forward into the second – focussing on psychosocial factors, active care, and outcomes. There are several new chapters which include a focus on diagnosis, functional assessment, and recovery care. The text highlights the importance of functional restoration and various rehabilitation methods are outlined. One of the major additions to the second edition is the companion DVD. This is an excellent adjunct which demonstrates the appropriate techniques for the diagnosis and treatment of spinal pain. This is an excellent tool to educate both clinicians and patients.
Although this is an updated edition, there are some chapters which have limited change from their previous counterparts. The layout of some of the chapters could be enhanced to visually separate concepts. Even though there are a multitude of illustrations and photographs, the use of occasional colour diagrams and photos would have been a welcome change to the new edition. Integrating active rehabilitation into the clinical management for musculoskeletal pain is essential. Overall, this book is highly recommended for any student or clinician interested in providing appropriate active rehabilitative care for spinal pain. The companion DVD is a valuable addition and both this and the text would likely be a frequently used reference.