PCCN® Certification Exam Prep Package with Practice Test and NSN Access – Cyndi Zarbano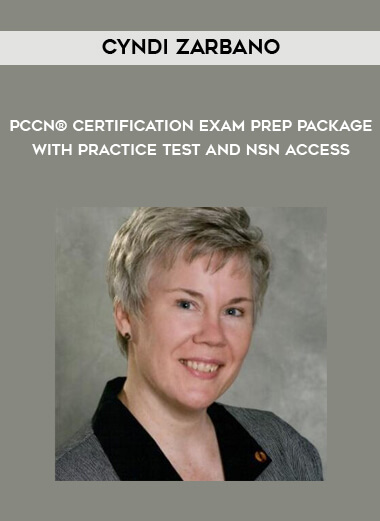 Salepage : Preview
Arichive : Preview
Pass the PCCN Certification Exam…The First Time
Preparation for the exam has just become easier and more effective!
Learn at your own pace…from your own computer
No cramming, no stress, no fear
Relevance to your everyday work challenges
Most importantly…exam success!
This cutting-edge online video course will provide you with the insights necessary to pass this challenging exam — the very first time!
Are you unsure of how to study, and wonder if your current level of knowledge is sufficient to pass the examination? Join expert and certification coach, Cyndi Zarbano, MSN, BSN, CCRN, CEN, PCCN, CMSRN, CLNC, NLCP, for this comprehensive review which includes a powerful challenge exam and access to online resources. Sign up today and achieve your dream of becoming certified.
This innovative online course covers all clinical and professional issues per the current PCCN exam blueprints. An in-depth review of systems and refresher on current practices will prepare you for success by not just reviewing key concepts, but also reinforcing them through realistic test questions! You'll also gain valuable test-taking strategies and tips that will aid in your quest to become a certified Progressive Care Nurse.
Get started immediately! This dynamic course will increase not only your progressive care nursing knowledge, but also your earning power and employment opportunities.
Watch the 14 video sessions at your own pace, and earn 12.5+ CE hours!
This self-paced online course covers all the major topic areas included in the PCCN certification exams:
Professional Caring & Ethical Practices
Hematology & Immunology
Endocrine
Gastrointestinal
Neurology
Cardiovascular
Renal
Pulmonary
Multisystem
Behavioral & Psychosocial
Test-taking Strategies
The Certification Exam Prep Course Includes:
Immediate Online Access to Video Sessions providing a comprehensive review of conditions by body system
PCCN Course Manual (PDF format)
Additional Study Tools — (4) audio seminars to complement course videos and reinforce key areas of study
Online Practice Test to assess your readiness for the actual exam
Online CE Test Access — complete the entire course and earn 12.5+ CE hours
Collaboration with other online students to help with problem solving and to keep you motivated!
Unlimited Access to all videos and materials online, plus you can download all resources to own forever!
You'll be fully prepared to pass the exam and get certified!
Here's what you'll learn in this comprehensive online course:
Module 1
Professional Caring & Ethical Practices
 Overview of the Synergy Model of Care
 Family-Centered Care
 Informatics for the Bed-side Nurse
Hematology & Immunology
 Anaphylactic shock
 DIC
 Blood products for the coagulopathic patient
 Caring for the immune-comprised patient
Endocrine
 Diabetes Insipidus
 Diabetic Ketoacidosis
 Metabolic Syndrome
 SIADH
 Hyperosmolar Hyperglycemic Syndrome
Gastrointestinal
 GI Bleeds
 Pancreatitis
 Intestinal ischemia and infarction
 C. Diff
 Nutrition planning for the acute and chronically ill adult patient
Neurology
 Assessment and care of the brain-injured patient
 Stroke
 Intracranial hemorrhage
 Subarachnoid hemorrhage
 Seizures
 Bed-side assessment of dysphagia
Module 2:
Cardiovascular
 Cardiovascular assessment
 Hemodynamics
 Pharmacology to enhance cardiac output
 Acute Coronary Syndrome
 Acute and chronic heart failure
 Aortic aneurysm
Renal
 Acute and chronic renal failure
 Electrolyte disorders
 Dialysis strategies
Pulmonary
 Pulmonary medication implications
 Acute respiratory failure
 Mechanical ventilation strategies
 Pneumonia
 ARDS
 Care strategies for the thoracic surgery patient
Multisystem
 Sepsis
 Shock: cardiogenic, hypovolemic, septic
 Hospital-acquired infections
 Wound care
Behavioral & Psychosocial
 Delirium, Depression & Dementia
 Suicidal patients & precautions
 Sleep & the hospitalized patient
Test-taking Strategies
 Application process
 Test blueprint review
 Tips & Tools