Mark Hatmaker – Armor Plated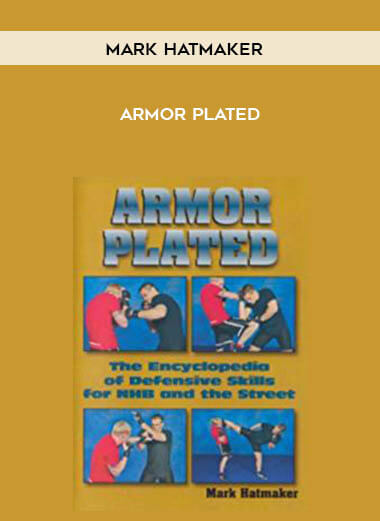 Salepage : Preview
Arichive : Preview
The oft-heard tactic ""the best defense is a good offense"" may hold true most of the time in the ring or on the street, but what happens when your opponent has the same strategy? Like it or not, you need good defensive skills to be victorious, and the best resource for them is this hard-hitting video production from Paladin Press.
In it, best-selling author Mark Hatmaker has selected the most effective arsenal of defensive tactics from both stand-up fighting and wrestling, giving you the knowledge you need to keep from getting rocked by a haymaker, pounded in the mount or surprised by a nasty kick.
Hatmaker begins your instruction with basic techniques that work against any strike your opponent throws and then moves into the specifics of defending against punches, blocking kicks and even stopping elbows, knee strikes and headbutts. He then takes the fight to the ground, teaching you not only how to best protect against a grappler's ground and pound game, but also how to turn the tables and put him on the defensive.
If you want to be a true fighter, a good offense isn't enough. You need a good defense. With this video, you'll not only have that defense, you'll be ""armor plated"". For information purposes only.
About the Actor
Mark Hatmaker is a lifelong student of the martial arts with more than 24 years of experience in Western boxing, wrestling, and no-holds-barred fighting. Known as The Professor of Grappling, he is widely recognized for his pragmatic, results-oriented approach to combat training. Hatmaker conducts regular seminars across the country and can be visited