Larry Crane – Accelerated Learning Call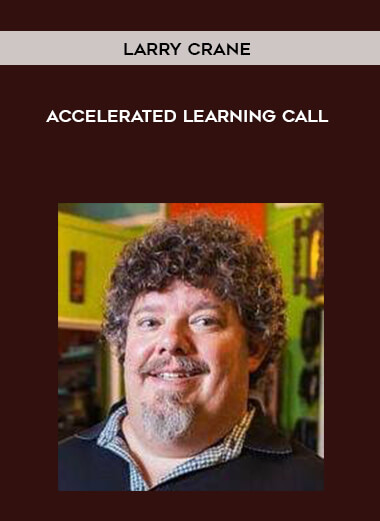 Salepage : Preview
Arichive : Preview
Accelerated Learning delivers comprehensive content and practice coaching in a compact 8-week time frame. Structured around a combination of self-study and group calls, this course provides a deeper understanding of the Team Diagnostic™ model and TCI methodology. Accelerated Learning can be taken before or after The Master Class. 
The design of the course came from surveys of experienced coaches. They told us what they wanted from team coaching training that would give them the confidence to deliver the full team coaching methodology, including ongoing coaching and follow-up assessment.
The course features self-paced study, small group calls led by experienced TCI faculty, recorded webinars, and practice coaching. Accelerated Learning covers the complete process from sales… to delivery… to completion.
Course Overview
Blended learning environment — self-study and group coaching calls.

Six consecutive weekly group calls with set course dates at registration.

Limited to 10 participants per group.

One-on-one mentoring available (but not included in pricing). Participants make their own arrangements with TCI-approved faculty.

Unlimited use of the Team Leader View™ assessment (a minimum US$600 value).

Full access to

"Team Coaching University"

, our extensive resource portal.

With self-study, call preparation, and group calls, we estimate a time commitment of 5-8 hours per week to complete this course.

27.50 ICF CCEU's: 16.75 core competency hours and 10.75 hours of resource development.
For graduates of TCI's Intensive course prior to 2016, this is the only component of the Certification program needed in order to complete our requirements to become a Certified Team Performance Coach™. We also offer this course to you at a reduced rate.
The Program Includes 8 Distinct Lessons:
The first two lessons on marketing and sales may be taken online at any time. The following six lessons are set up to accelerate learning, each with a group practice call:
Four Integrated Tools: Details on when to best use each tool and best practices tips from experienced users.

Positioning the Tools

Internal sponsors

Marketing

Proposal Process

Marketing Tools & Sales Aids

Team Coaching a "Systems" Approach

Initial Session/Results Reveal

Ongoing Coaching

Relationship Contracting

Action Planning

Team Coaching Virtual Teams