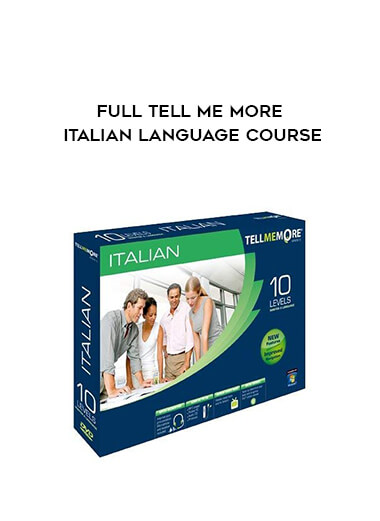 Full Tell Me More Italian Language Course
Salepage : Preview
Arichive : Preview
TELL ME MORE is a global leader in language learning software, with more than 7 million satisfied users worldwide – including prestigious academic institutions, government agencies, and Fortune 500 companies.
The new TELL ME MORE version 10 is a true milestone in language learning. Developed by a team of language experts, TELL ME MORE leverages the renowned Communicative Approach, a methodology used in schools and universities around the world.
TELL ME MORE implements this methodology using the exclusive PRIME approach.
Progressive
TELL ME MORE offers a personalized learning path that will allow you to improve your language skills progressively.
Real-world
TELL ME MORE develops each program to reflect the culture, history, people and geographical background of the language, making use of real-world video, animations, graphics and situations to completely immerse you in an authentic learning environment.
Interactive
TELL ME MORE features interactive dialogues and thousands of exercises based on speech recognition, which will enable you to communicate in minutes.
Motivating
With more than 40 different activities, you're constantly challenged and actively engaged in the learning process. Tracking tools and assessment tests allow you to visualize your progress.
Effective
95% of learners demonstrate significant progress and satisfaction.
TELL ME MORE version 10 has a number of exciting features:
–New User Interface: The overall look and feel of the product has been improved significantly. The clean lines, uncluttered screens, simple icons, tight color scheme and overall usability will make your language learning fun and easy.
–New Tracking Tools: You will now be able to visualize your progress throughout the entire program.
TELL ME MORE continues to offer the most complete and comprehensive program on the market. It's the only solution that truly addresses the need to master Italian, as opposed to merely learning basic words and sentences.
"TELL ME MORE 10 Levels" will allow you to master a language with 10 distinct levels of Italian learning from Beginner to Advanced
-20 hours of interactive video
-20,000 exercises that keep your learning fresh and engaging
Exclusive Services to Assist You with Your Learning
-An exclusive Progress Test to evaluate your progress
-Weekly EuroNews lesson incorporating video, vocabulary and grammar exercises to teach you about a current news topic
-A 24/7 Online Adviser
State-of-the-Art Technology
-Most advanced speech recognition on the market, allowing you to improve your pronunciation significantly
-S.E.T.S (Spoken Error Tracking System) technology that pinpoints mispronounced words
-Role-play activity, allowing you to play a character in an original TV series or movie
Learn "On-the-Go" with Tell Me More
Continue your language learning wherever you go:
– On your PocketPC (MPEG videos, audio files, cultural texts, etc.)
– On your MP3 player (including iPods and other MP3 devices)
– On audio CDs
– On printable vocabulary lists and grammatical explanations
Magazine Reviews:
PC Media:"Put simply, we've never come across a better language-learning tool. TELL ME MORE is a vast resource that will help linguists of all levels"
TopTen REVIEWS:"TELL ME MORE is the best software option available…TELL ME MORE is clearly the leader… in language learning."