Esther & Jerry Hicks – The Vortex II – Thriving in the New World Economy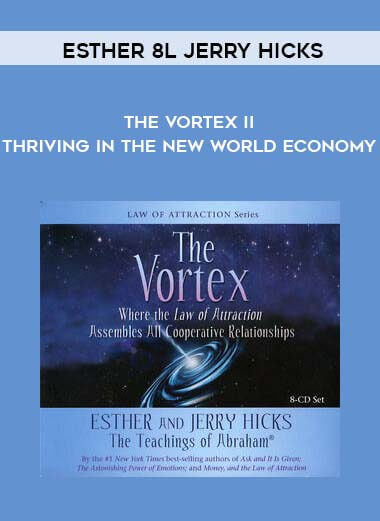 Salepage : Preview
Arichive : Preview
Abraham lays out the simple, effective principles whereby anyone can use the power of their own mind to transcend the negativity and limiting beliefs concerning money and abundance that are currently holding sway in the world. Finally, Abraham illustrates their powerful Focus Wheel process using specific examples from several Law of Attraction workshop participants – and in so doing provides clear, practical, effective guidance how to manifest abundance and prosperity in even the most problematic financial climate.
Contents:
Opening Titles 1:15
Where's My Stuff? 7:36
To Thrive in Times of Hardship 5:28
Let Law of Attraction Work for You 8:38
Focus Wheel into You Money Vortex 9:16
Shift Your Response, Shift Your Manifestation 8:24
The Basis of the World Economy 10:39
Bernie Madoff & the Expansion of the Universe 9:37
Everything Is Irrelevant to Being in the Vortex 8:16
Abraham's Closing 1:05
End Credits 1:12
Total Running Time: 72 Minutes
Jerry & Esther Hicks
For over 20 years Esther & Jerry Hicks have published hundreds of books, audio recordings and videos, and have conducted up to 60 workshops a year. Their work is derived from the teachings of "Non-Physical Source Energy" whom they refer to as "Abraham".
The Teachings of Abraham™ are based on a universal principle called the Law of Attraction and on the key role our emotions play, and they illuminate and inform every aspect of our experience.