Dr. Jeffrey Thompson – Memory Learning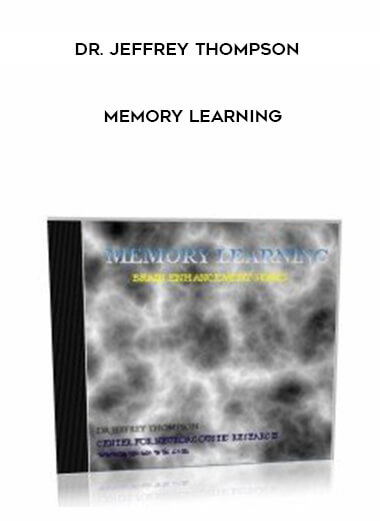 Salepage : Preview
Arichive : Preview
Название: Memory Learning (психоактивная аудиопрограмма)
Автор: Dr. Jeffrey Thompson
Год выпуска: 1995
Серия: Brain Enhancement Series
Издательство: The Relaxation Company
Продолжительность: 60 минут
Формат: flac, lossless
Размер: 310.22 Мб
Качество: хорошее
Язык: английский
Психоактивная аудиопрограмма «Memory Learning» предназначена прежде всего для тех, кто хочет улучшить свои способности к концентрации, улучшить память, внимание, способность к обучению и любит спокойную музыку.
Наверное, каждый из нас хотел бы улучшить свою память и способность к обучению, чтобы оставаться на высоте в это сложное время. Исследования показали, что как память, так и обучение характеризуются специфической картиной распределения биоэлектрических потенциалов мозга и специфическими эмоциональными состояниями. Аудиопрограммы этой серии сконструированы таким образом, чтобы мозг слушателя мягко вовлекался в характерные состояния, связанные с долговременной памятью. «Первобытные Звуки» используются для достижения состояний повышенного внимания, а специальный способ 3- D аудиозаписи помогает «убедить» мозг, в этой реальности. Таким образом, эта точно выверенная координация современных технологий позволяет Вам расширить способность к обучению и запомнить все, что Вам необходимо.
Played softly in the background or used with headphones, this Learning / Memory Audio Program or Soundscape has been designed and engineered to alter your brainwave state to match brainwave states that have been found through clinical research to be associated with opening Deep Memory, Enhanced Learning, Increased Focus and Expanded Concentration. As such it has been used by many, many persons – from very elite and well-known persons to successfully pass and excel on professional examinations to the smallest child struggling to balance his or her world and learn in school.
The program includes the specific frequency patterns which allow us to achieve: to learn and retain information, not only for the purpose of passing a quiz or a test, but to retain fact, figures and relationships because the information is worthwhile.