Couples Therapy Jump-Start: Connecting Clinical Strategies with Neuroscience to Re-Wire & Re-Fire Love – Wade Luque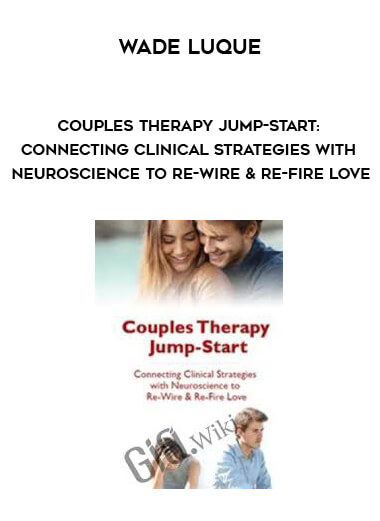 Salepage : Preview
Arichive : Preview
Fighting couples come to you for a quick fix. Are you ready to turn those frustrations into positive change?
Therapy is usually a couple's choice after years of marital conflict, and their expectations can turn sessions into a challenge, leaving you and your clients feeling like the whole process is a failure.
Put yourself on the path to success when you enroll in Couples Therapy Jump-Start: Connecting Clinical Strategies with Neuroscience to Re-Wire & Re-Fire Love. You'll gain a unique skillset to turn frustrations into positive change, help clients calm themselves, and foster listening without reacting – using techniques backed by neuroscience to help rewire the client's brains.
Solutions take time, but when you have the right tools you can start a couple's therapy session on the right path from day one.
Articulate how the neuroscience of relationships informs clinical practice with couples.
Communicate how breathing and visualization techniques can help calm clients and facilitate improved communication in couples.
Establish how clinicians can utilize the couples dialogue process and the behavior change request process to help couples make changes in their relationship
Characterize how methods for increasing empathy between couples can be used in therapy to increase attachment.
Explore approaches clinicians can employ to reduce negative behaviors between couples while increasing caring behaviors.
Specify the main components of an effective plan to maintain therapeutic gains after therapy ends.
A NEURODEVELOPMENTAL MODEL OF COUPLEHOOD
The brain's function in couple frustrations
Child development and mate selection
Finding and reclaiming our lost self through relationship
Understanding and finding the imago match
CREATING SAFETY AND RECONNECTION
THROUGH COUPLES DIALOGUE
Calming the brain to lessen reactivity
Learning and teaching couples dialogue
Practicing couples dialogue
Organizing a first couples session
Engaging men in couples therapy
Gender, brain differences and communication
Four skills to calm the brain to lessen reactivity
RE-FIRING EMPATHY AND PARTNER RECONNECTION
The neuroscience of empathy
Restarting the empathic process in distressed couples
The parent/child dialogue
The holding exercise
RE-WIRING FRUSTRATIONS FOR POSITIVE CHANGE
Mind, body and trigger reactivity in partners
Frustrations as desires stated negatively
Turn desires into positive, doable behavior change request
Frustrations as growth trying to happen
MAINTAINING THERAPEUTIC GAINS
Loss of effect following a course of treatment
Assigning an after-care plan
How to set up booster sessions
Change, new brain patterns and safety in the relationship